We are very excited to be hosting the 4th Annual Statewide Women's Policy Conference at The Westin Chattanooga.  Below are important details to help you prepare for this year's conference and be safe.

THE SCHEDULE:  All conference activities take place in the Conference Center at The Westin Chattanooga.  Facemasks will be required during all conference activities, except while eating meals.  

THURSDAY, FEBRUARY 3, 2022

4:30pm - Registration and Expo Opens - Pick up your conference packet and visit the amazing vendors.

5:30pm - 7:30pm - Celebrate the Power of Women - Speakers and Sponsors Reception - Visit with our Speakers and Sponsors, with entertainment by Sonic Essence, heavy hors d'oeuvres and cash bar

FRIDAY, FEBRUARY 4, 2022

7:30am - 8:15am:  Sit down Breakfast - NEW for 2022 we will have a plated meals in lieu of a buffet meal in an overabundance of caution for health safety.

8:15am:  Welcome and Opening Session

VIEW THE FULL AGENDA HERE.  

PARKING:  

Daily Drive in Valet at The Westin:  $10

CitiPark Garage, 807 Chestnut Street:  3-5 hours $7.00 / 5-8 hours $10 / 8-24 hours $15

HEALTH AND SAFETY GUIDELINES
The Mayor's Council for Women continues to take all of the necessary precautions, as recommended by the CDC and Hamilton County Health Department, to ensure a positive, healthy and safe environment for everyone. We encourage all to be vaccinated.
Only registered attendees will have access to the Conference Area.  Please make sure you wear your name tag and Conference wrist band, that will be given to you at Check-in, at all times to ensure access.
Facemasks will be required at all times in the Conference area except when eating meals.
Please help us keep everyone safe by supporting these guidelines.
We look forward to seeing you next week!
Statewide Women's Policy Conference Steering Committee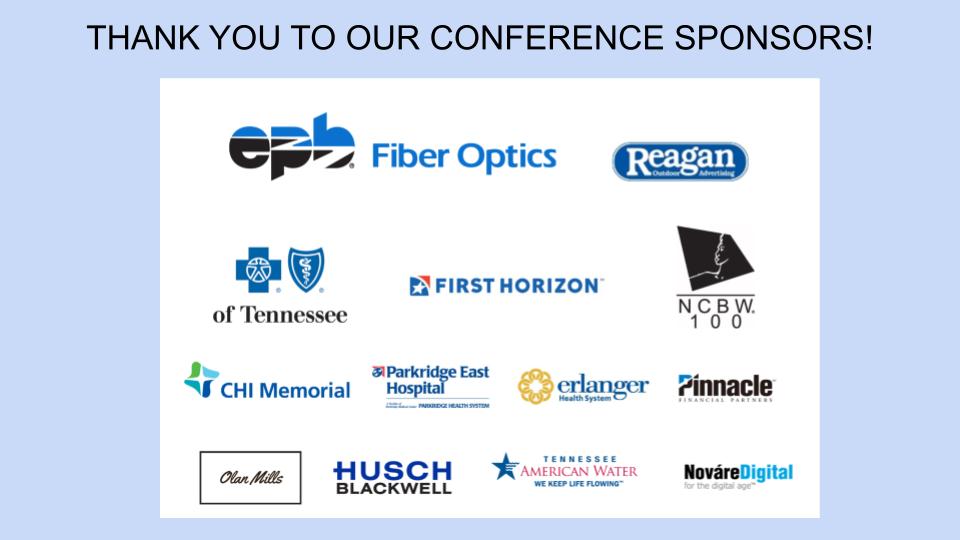 In 2018, we began hosting our annual Statewide Policy Conferences that have drawn several thousand women from Tennessee and the tri-state area. Each conference is a retrospect of the work in Empowerment, Health, and Justice during the preceding year - and thoughtful discussion of what needs to happen in the future. Included are speakers from all over the country whose work impacts the status of women. 
Click below for more information our past conference materials.
"Fight for the things that you care about, but do it in a way that will lead others to join you." – Ruth Bader Ginsburg